"To build fortune, build roads first." That's the most concise lesson learned by the Chinese people in their fight against poverty.
Today, the Chinese idiom is exactly being verified on the Belt and Road, a global infrastructure development strategy that bears huge potential for countries sitting between the dynamic East Asian economic circle and developed European economies.
Ethiopian attendants jump at the Lebu station in Addis Ababa, capital of Ethiopia, Jan. 1, 2018.
Let's take a look at the Yiwu–Madrid railway line, which spans 13,052 kilometers from Yiwu, a small commodity trade hub of the world in east China's Zhejiang Province to Madrid, the largest small commodity distribution center in Europe, via Kazakhstan, Russia, Belarus, Poland, Germany, and France.
Yiwu, Zhejiang Province, China. The city is one of China's leading trade hubs.
Yiwu–Madrid railway
Since the service officially started operation on Nov. 18, 2014, it has opened 14 routes and established three branch organizations and five logistics distribution stations along the rail tracks, connecting 49 countries and regions on the Eurasian continent.

These "iron camels" are seamlessly linking countries and cities along the Silk Road in the new era. Apart from facilitating the flow of commodities between the east and the west, they are also revitalizing the ancient Silk Road, which once stagnated over its lengthy history.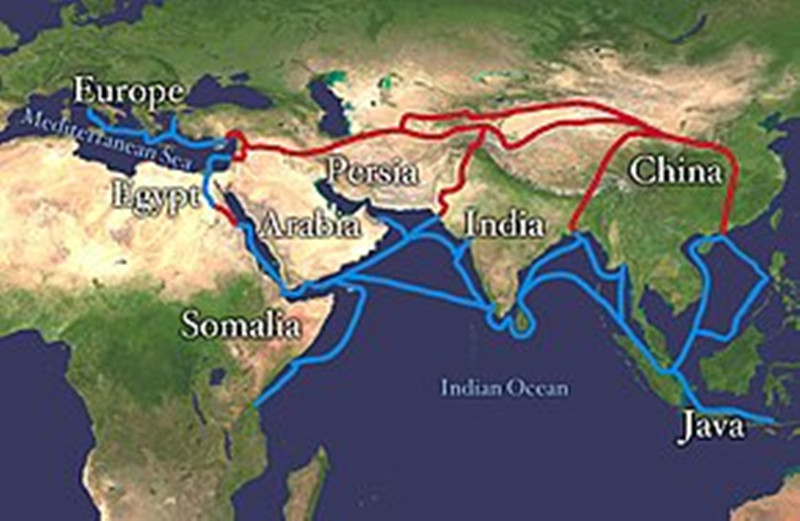 With its origins in the Han dynasty, the Silk Road was a series of trade routes that extended from China, across Central Asia, to as far as Europe. The ancient Silk Road once connected China with the rest of the world and witnessed trade and cultural exchanges that benefited people of different civilizations.
In Kenya, the Chinese-built and funded Nairobi-Mombasa railway has ferried more than 2.5 million passengers and nearly 3.9 million tons of cargo since its launch in May 2017. In his State of the Nation Address, Kenyan President Uhuru Kenyatta praised the grand project, saying it has been listed among the top 13 most magnificent railway tours for 2019.
People throw confetti at the port city of Mombasa on May 30, 2017 after Kenyan President Uhuru Kenyatta inaugurated a cargo train before its first journey to Nairobi.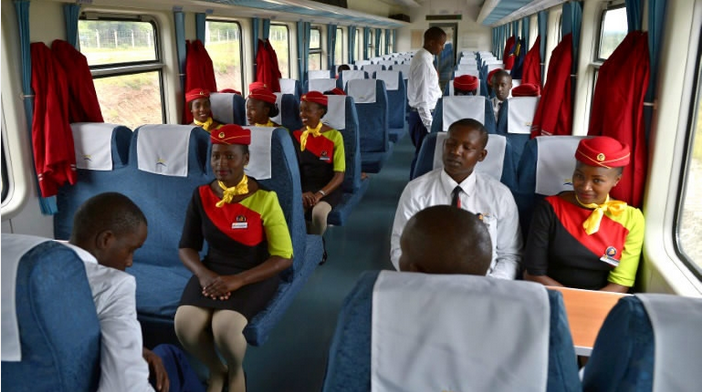 The line shortened passengers' journey time from 10 hours to just four and a half.
In Uzbekistan, Chinese workers have built a 19-kilometer tunnel within 900 days together with local people, which enables residents living in remote areas of the country to cross mountains and valleys in just 15 minutes.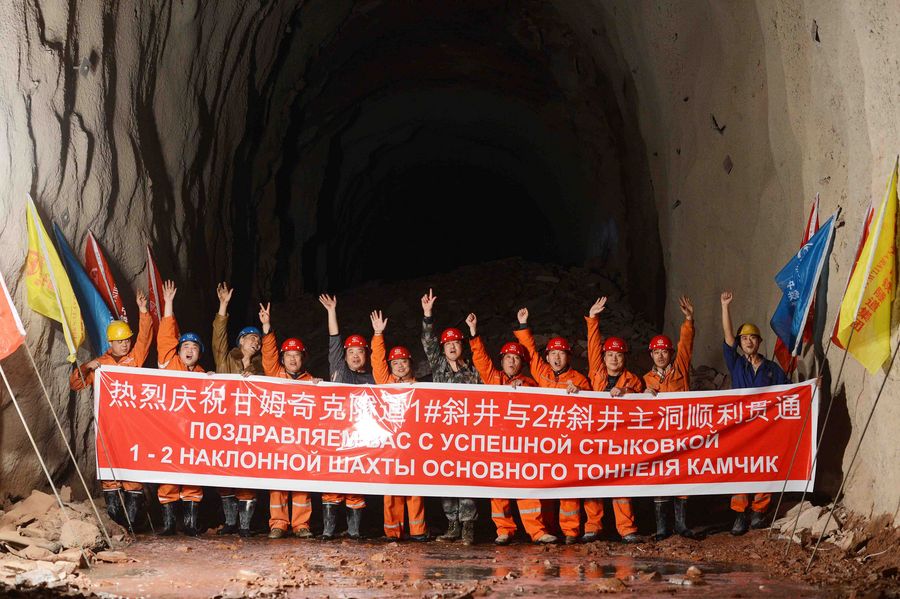 Workers pose for group photos to celebrate the completion of Qamchiq Tunnel, part of the Angren-Pap railway line, in Uzbekistan, Feb. 27, 2016.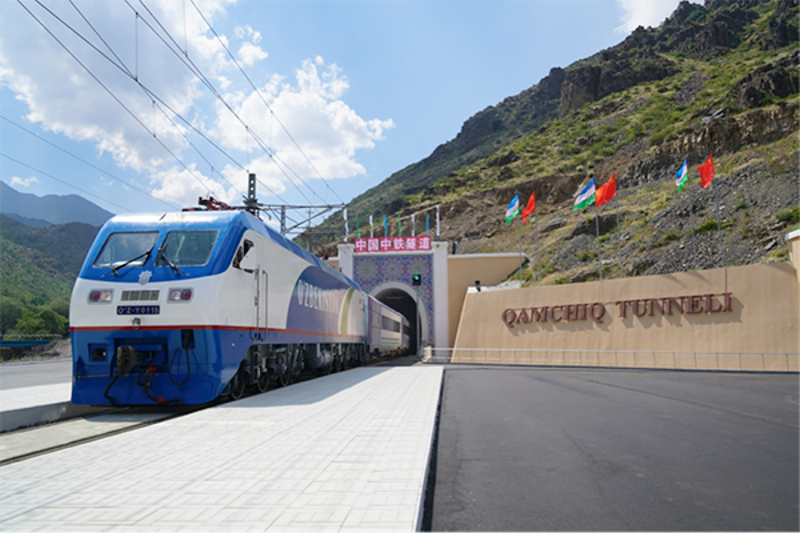 Qamchiq Tunnel of Anglian-Pap Electrified Railway, Uzbekistan
In Ethiopia, a Chinese-built electrified rail project, also the first electrified railway in the country that connects the country's capital Addis Ababa and Djibouti, has been put into commercial operation in 2016. It was constructed to meet Chinese standards, using Chinese design, equipment, and operations. The railway is said to shrink the trip between Addis Ababa and Djibouti from one week to ten hours.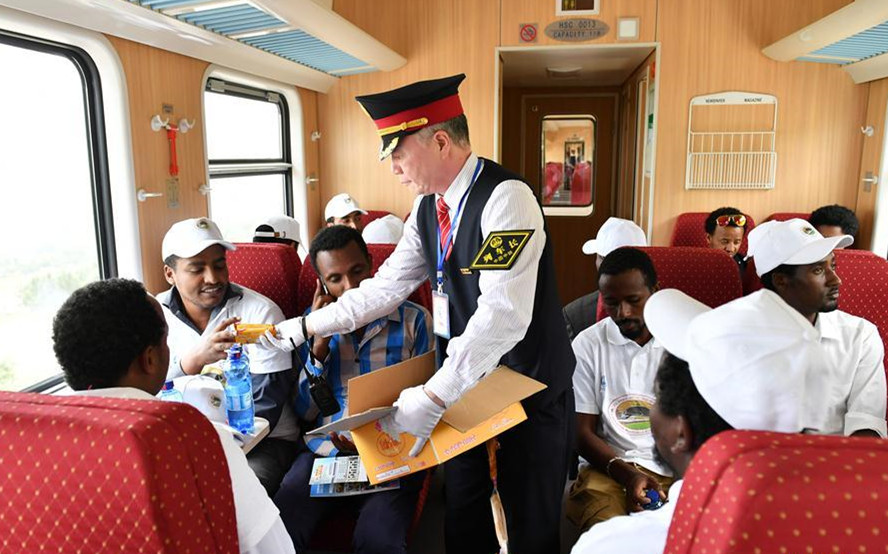 Li Chenglin (C), head of the train crew, gives cookies to passengers on a passenger train of Ethiopia-Djibouti railway in Ethiopia, on Oct. 5, 2016.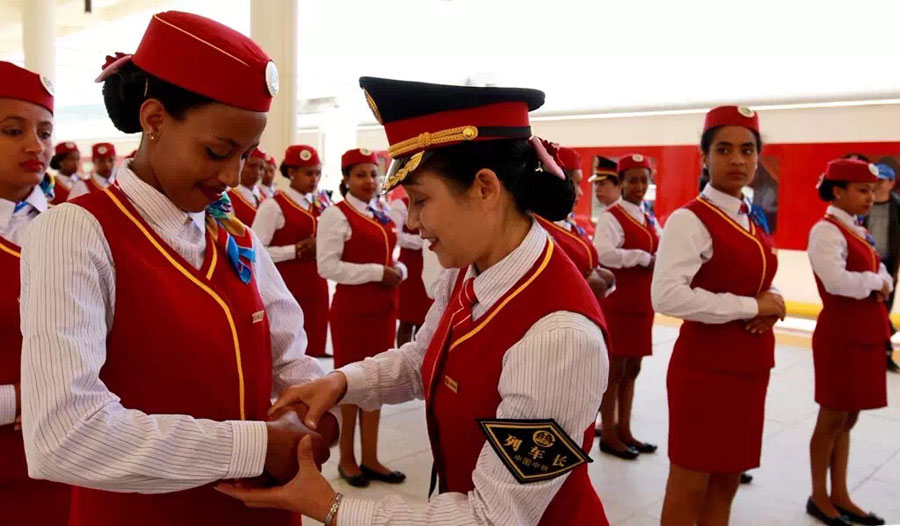 A Chinese conductor trains the Ethiopian attendants at a railway station in suburban Addis Ababa, Ethiopia, Oct. 1, 2016. The Chinese-built railway linking the Ethiopian capital and the port of Djibouti is expected to help the landlocked African country improve access to the sea and speed up a burgeoning industrialization process.
Since it was first proposed in 2013, the Belt and Road Initiative (BRI) has increasingly expanded its "circle of friends".
It was responded by over 50 countries along the route in 2014, and over 70 countries and international organizations expressed intention for cooperation the next year. In 2016, the initiative was incorporated in a resolution at the 71st Session of the UN General Assembly. By 2017, China has signed 100 cooperative documents on Belt and Road cooperation with 86 countries and regions, and the numbers jumped to 173 and 151 in the year after, respectively.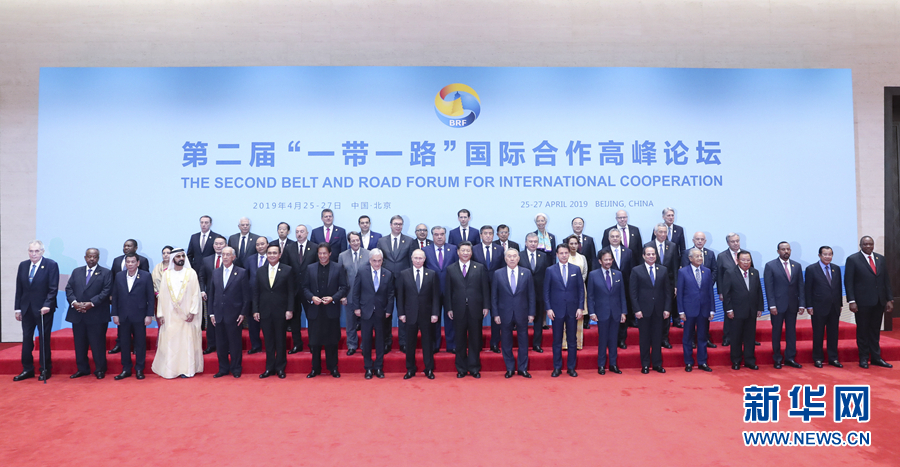 The Leaders' Roundtable of the Second Belt and Road Forum for International Cooperation is held at the Beijing Yanqi Lake International Convention and Exhibition Center, April 27, 2019.
The Smederevo steelworks of Serbia, which was once on the edge of bankruptcy, returned to life under the assistance of Chinese enterprises and became the largest exporter in the country. It brings stable income to 5,000 employees and their families, thus driving local consumption and leading to prosperous economic development of the city.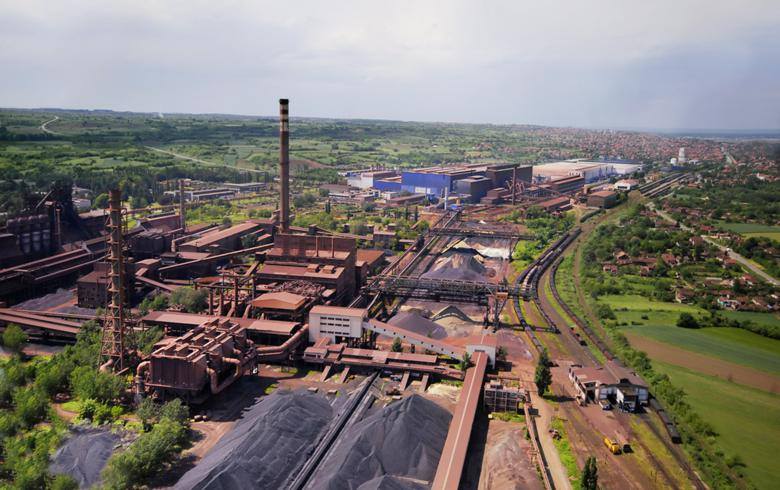 Smederevo Steelworks
After Australian State of Victoria signed an agreement with China on Belt and Road cooperation, its foreign trade volume surged from 6 billion Australian dollar ($4.57 billion) to over 10 billion Australian dollar.
In the Damietta branch of the Nile River, 40-year-old Yehya Abdullah and his fellow fishermen set out with four boats. But they were not for fish.
Instead, they were hunting the crayfish, a cousin to the freshwater lobster — a previously unwanted invasive species in Nile until Chinese factories made them profitable.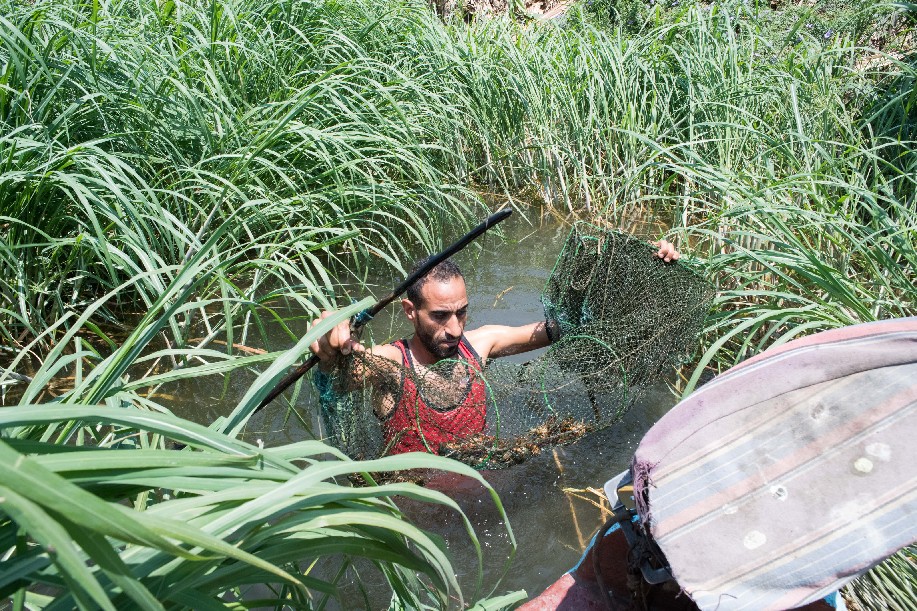 A fisherman hunts crayfish in the Damietta branch of the Nile River in Minufiya province, north to the capital city of Cairo, June 10, 2019.
"The crayfish business has changed my life and the lives of many fishermen and workers in the village after Chinese companies opened factories in Egypt for processing and exporting crayfish, which we used to get rid of as undesirable and harmful species," Abdullah said.
Staff members weigh crayfish at a Chinese factory in the 10th block of Ramadan city of Sharqiya province north of Cairo, Egypt, on May 8, 2019.
Sami emphasized that the crayfish business has brought changes to the lives of many Egyptians, including fishermen, suppliers, factory workers, truck drivers and others.
The Chinese investors built the first factory in Egypt for processing and exporting crayfish in 2003, and now the number of factories has increased to about 10. Between 2014 and 2017, 80 percent of the imported crayfish in China came from Egypt.
The World Bank said in its report "Belt and Road Economics: Opportunities and Risks of Transport Corridors" that BRI transport projects could help lift 32 million people from moderate poverty (those earning less than $3.20 a day), and are estimated to increase global trade and global real income by 6.2 percent and 2.9 percent, respectively.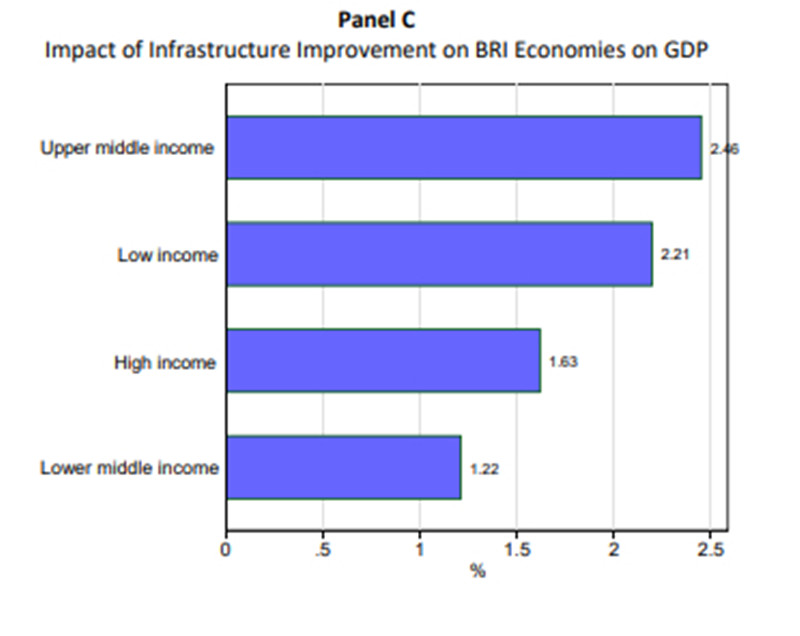 Source: World Bank
By April 2019, Chinese enterprises have invested over $30 billion in building a batch of economic and trade cooperation zones in Belt and Road countries, creating nearly 300,000 jobs for local communities.
The success of the BRI comes from its "mass line," said Ruan Zongze, executive vice president of China Institute of International Studies, explaining that more and more countries are listening to the voices of the people, attaching more importance on livelihood, and creating tangible benefits regarding employment and income growth.
Credit: Source link